HDC Interns Call on Housing Communities to preserve the environment
In addition to the on the job training and professional development workshops, twenty (20) Vacation Interns who are part of the Trinidad and Tobago Housing Development Corporation's (HDC) Internship to Leadership 2018 Programme, accepted the challenge to conceptualise an Environmental Awareness Campaign for HDC housing communities. This campaign, which initially focused on the HDC's East Grove community which has underutilised recycle bins in place, will be expanded to other HDC communities where recycle bins will soon be installed.
This environmental challenge spanned one month and required interns to work in groups of four, to create a flyer and one minute video. The overall objectives of this task were to encourage residents in HDC communities to adhere to environmentally sustainable practices; heighten environmental awareness among future leaders of our society and to underscore the importance of teamwork among colleagues and future leaders.
In commenting on this specific initiative, HDC Managing Director, Brent Lyons indicated that this initiative is timely especially since the HDC is about to implement a larger scale recycling project in its housing communities over the next few months. Moreover, Lyons indicated that "one of the key aspects of leadership is being aware of the problems which exist and devising a possible solution which can foster positive change. I therefore congratulate the interns for dedicating 100 % to this task."
The HDC's Internship to Leadership Programme which has been in existence for six years, aims to provide each student with the requisite industry experience in their respective fields of study while providing opportunities for leadership and professional development. As the HDC Chairman noted in his remarks at the programme's launch in June, the HDC does not "do this programme out of largess but simply because it is our hope that after your time with us, you will maximise your capacity to learn and develop your portfolio of achievements."
The winning group compromised Kyle Veeru Maraj, Alicion Rennie, Shinyka Emmons and Jahlin Stephen. This group's flyer was captioned "Show that Humans Do Care: Let's Preserve Our Environment." The winning submissions (slogan, flyer and vlog) will be used as part of the HDC's public awareness and education campaign for its upcoming recycling initiative. The winning group received VIP tickets to Digicel IMAX Gemstone as well as "bragging rights" on the HDC's social media platforms.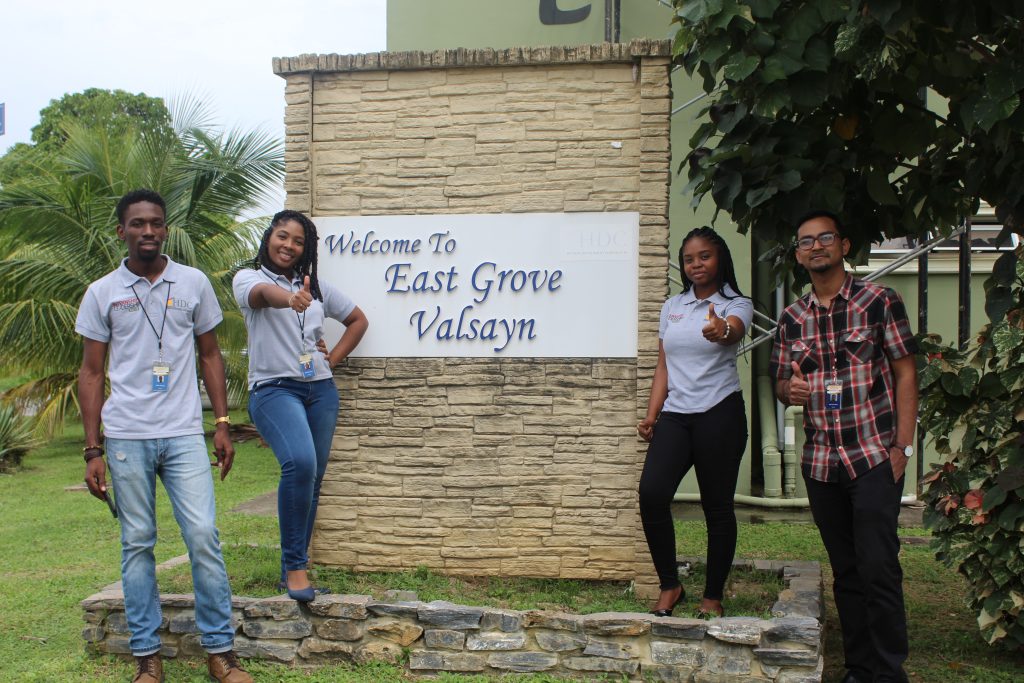 Winners of the HDC Environmental Challenge: (from left) Jahlin Stephen, Shinyka Emmons, Alicion Rennie and Kyle Veeru Maraj.