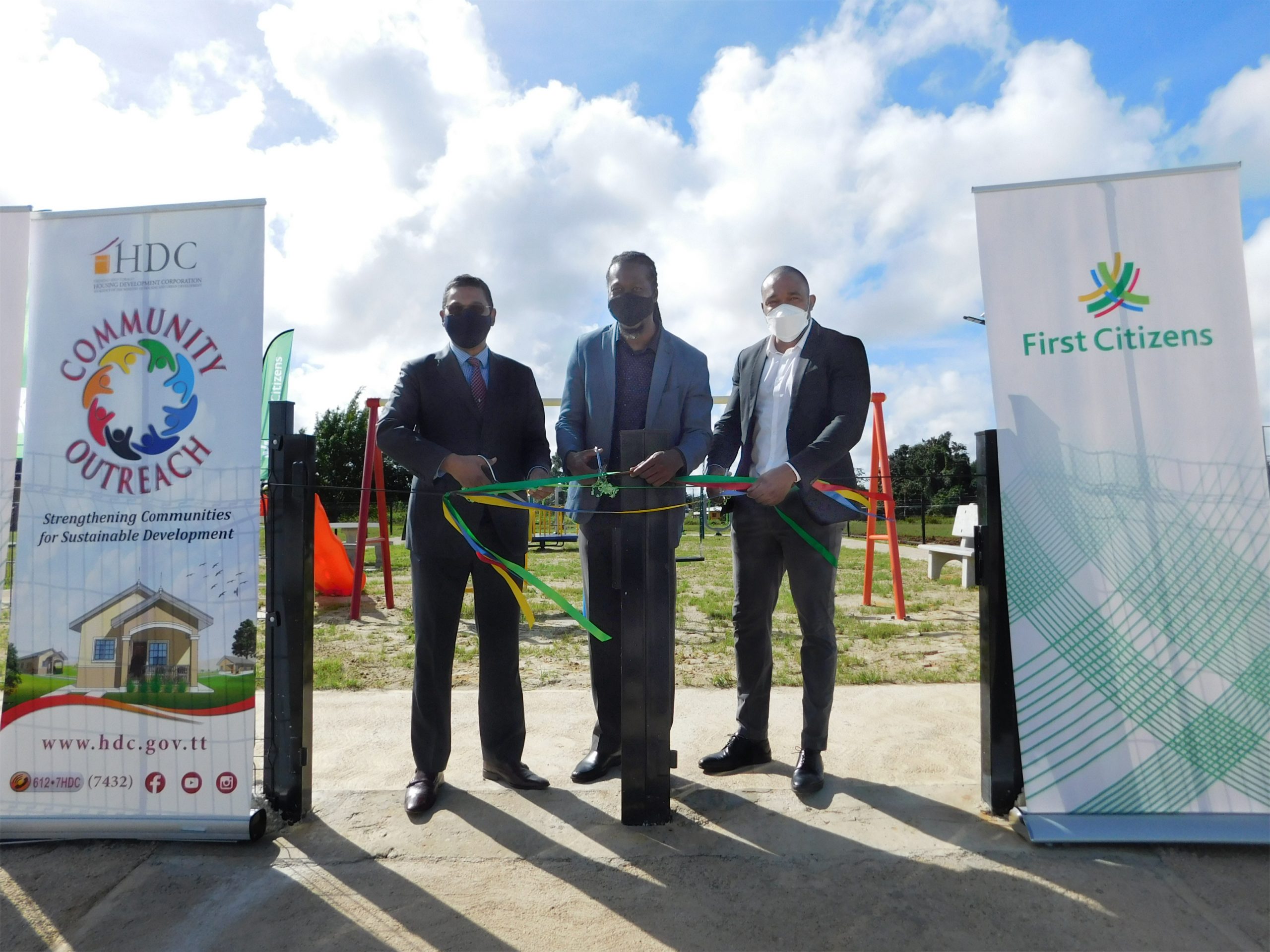 HDC and First Citizens partner to construct community play park for Carlsen Field residents
December 08, 2020
Residents of Cashew Gardens, Carlsen Field now have a new community space where children can play, grow and interact with each other in a safe environment. This play park was constructed in this Trinidad and Tobago Housing Development Corporation (HDC) community with the support of financial institution, First Citizens. Present to formally open this community space on Tuesday December 08, were Minister in the Ministry of Housing and Urban Development, Adrian Leonce; HDC Divisional Manager, Estate Management, Larry McDonald and First Citizens' Head of Brand and Marketing, Larry Olton. After formally opening the park, the officials also planted four trees on the site as part of the HDC's Green Key Initiative.
In 2018, First Citizens agreed to partner with the HDC to construct a number of play parks and community spaces in select HDC communities across Trinidad and Tobago. Thus far, parks and spaces have been completed at Harpe Place, East Port of Spain; Awai Lands, Belmont; Adventure, Plymouth, Tobago and Gomez Trace, Moruga. Cashew Gardens, Carlsen Field is the fifth community to benefit from this partnership.
According to Minister Leonce, the partnership between the bank and the HDC underscores corporate Trinidad and Tobago's commitment to the overall development of not just communities but the country. He stated that community spaces like these are "instrumental in a child's development as they facilitate positive interaction and help to curb anti-social behaviour and activities". Leonce also stated that he was happy that the HDC is also focusing on building sustainable and greener communities through its Green Key Initiative. "Due to the negative impact of global warming on the environment, the Green Key Initiative is an opportunity to increase awareness and change attitudes about environmental issues," Leonce added.
Larry Olton, Head of Brand and Marketing at First Citizens, indicated that youth and education are two of the pillars in the company's corporate social responsibility thrust therefore the Bank was happy to partner with the HDC on a project that will ultimately benefit the youth in a positive way.
Outside of the partnership with the bank, the HDC is working on other activities to create sustainable communities such as community intervention projects and infrastructural upgrades.
END