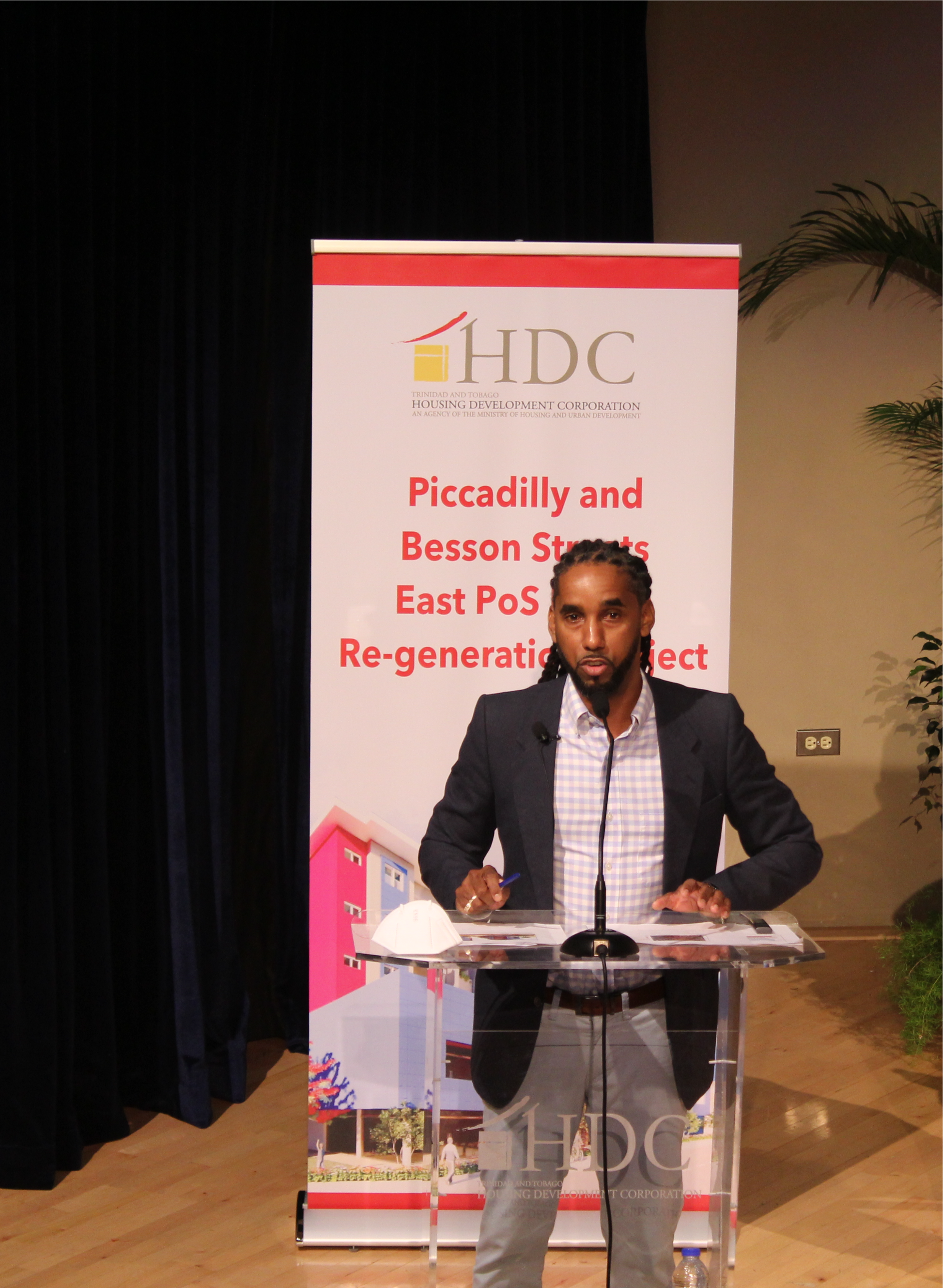 East Port of Spain to get facelift and improvements
East Port of Spain to get facelift and improvements
July 06, 2021
On Monday July 5, residents and stakeholders from East Port of Spain learned about plans to regenerate and revitalise their area. The East Port of Spain Urban Regeneration Project, which is being spearheaded by the Trinidad and Tobago Housing Development Corporation (HDC) is part of the Port of Spain Revitalisation Programme and will focus on Piccadilly and Besson Streets in the first instance. At a semi-virtual public consultation held at the Government Auditorium in Port of Spain, Housing Minister, Pennelope Beckles; Mayor of Port of Spain, Joel Martinez; Member of Parliament for the area, Keith Scotland; HDC Managing Director, Jayselle McFarlane and HDC Senior Manager – Urban Planning, Nigel Barrow, communicated the proposed project plans and provided the opportunity for residents to share their concerns, feelings and opinions.
The East Port of Spain Urban Regeneration Project will span two acres along lower Piccadilly and Besson Streets and will provide a mixed used development including a residential development, commercial and community spaces and recreational areas. An industrial complex and micro agricultural park will also be included in this regeneration activity. Through this project, the HDC intends to increase housing capacity, provide opportunities for employment and skills development, improve existing infrastructure in the communities, improve transportation links, provide greater safety through urban design and enhance the overall aesthetic of the communities. During the project implementation phase, no one is expected to be displaced and efforts will be made to minimise the inconvenience to residents.
In her address at the start of the session, the line Minister, Pennelope Beckles underscored "the importance of this undertaking, is to ensure that as our capital city transitions into a 21st century city, East Port of Spain does not get left behind." Beckles added that the Government's vision, therefore, is "to create a sustainable community utilising a mixed development concept which caters to the needs of residents. This is in keeping with the country's National Development Strategy (Vision 2030) and the UN's New Urban Agenda, whereby we can build capacity and improve the economic viability of the area to foster a more inclusive, safer, more sustainable and resilient urban community. This project therefore will act as a catalyst for positive change within the area."
In his opening remarks, Port of Spain Mayor, Joel Martinez indicated he is "pleased to see the attention given to the city by this Government and even happier that we are able to engage the residents in a meaningful way about these projects." Keith Scotland, Member of Parliament for Port of Spain South, underscored that through this project, "the Government is attempting to improve the lives and living conditions of those who reside in East Port of Spain and the overall experience for those who will visit East Port of Spain."
HDC Managing Director, Jayselle McFarlane assured residents that this consultation is the first of many engagement initiatives which will be undertaken as the project is implemented. The HDC intends to continue engaging in open, honest communication between residents and stakeholders; therefore, they are encouraged to continue visiting the HDC website and social media platforms and actively participate in other forms of outreach sessions to remain au courant about the project. Feedback, concerns and comments can also be sent to: consultation@hdc.gov.tt.
END